How to Think Through Growth for a B2B Startup?
"I tried scaling my startup to the next growth level but, somehow I failed. I have no clue what went wrong."
I was sitting across a startup client who was facing scaling issues. They knew they had to grow but, all their strategies failed. While sipping on the hot cup of coffee, I asked them a simple question- what did you do?
They started telling me all the strategies they used for growth and how they had planned. The strategies were all defined for short decision cycles. They considered a purchase cycle that was short and hassle-free, one that involved smaller routes.
I put my cup aside, and began explaining why they failed. 
My first statement was "you are a B2B company yet, you decided to think like a B2C startup. Why?"
The person sitting on the other side was stumped. It was then that he realized what his mistake was.
When you are a B2B startup, the attributes you need to consider when planning growth include long decision cycle, involvement of more than one stakeholder and purchases that take a longer time and are considered and evaluated over a period of time.
Secondly, you were not quite aware of the growth stage your business is in. When you are unaware of the growth stage, then you wont be able to establish the correct strategies.
Having said this, I stopped for a brief moment, so that my client could stomach all that I just said. 
"So, how should I think of growth for my business? What things should I consider, and how should I move ahead with my plans?"
That's when I realized, most people think of growth strategy as a need but, are not aware of how to go about it. I have worked with startups extensively, and have a good idea of how they work. I realized I should put my experience and expertise in growth strategies to good use by helping companies devise the right strategies. 
Begin with understanding the growth phase of your company. 
Define the Growth Stage
The first step to a successful growth strategy is accepting the growth phase and acknowledging this knowledge. We all know how people who believe they are in the scale phase are not really in that phase. 
For the starters, there are three phases to growth- the incubation, the scaling and the iteration phases. We will discuss what happens at each stage, and how you can work towards growth from this phase. 
The first phase, defined as

incubation,

is when the founder is working on an MVP. At this point, the founder is working in tandem with the customer to solve a real problem facing the customer. They will be understanding the real issue facing the customer, and identify the ideal solution for them. Either the founder has faced a similar issue or, they have a panel of customers who will help him in the solution being offered. This stage ends when the founder has a MVP ready for the customers.

The iteration phase is when you have the MVP and the customers are using it. During this phase, you will be continuously working on improving the product. You will need to incorporate the customer insights that you receive to improve your product and enhance your marketing efforts. At this point, you should ideally work with customers who have not worked with the founder earlier. It will help test the product properly and understand whether the product is fit for the market

The third phase is scaling. At this point, you have a market fit product, and you need to work on growing the customer base for the product. The main aim of your startup at this point is to penetrate into the market and offer lifetime value that will help with customer retention. you aim to increase conversions and improve profits for your customer. At this stage, you need to increase the buyer's awareness and help them consider your product through various means and methods.
I have explained how each growth stage works, and this should help you understand why the growth phase is important.
Now, depending on the stage, you will have to work on the growth tactics for your startup.
I believe you people are on the same page as I am till now.
So, this would be your first step towards thinking growth and differentiating your strategy from B2C.
Let me take you through a few tips that should help you refine your strategy, help with demand generation and match the growth path you are planning to take.
#1 Influence your Network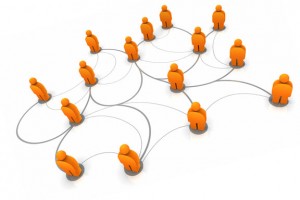 Every startup founder has a network, even if it is a small one. You need to influence your network to help you market your product or service the right way. Ask them over for a cup of coffee and talk to them about the product you have created. You can even have a small meeting somewhere in your office or theirs, and discuss with them what you have created and how it will help. When you discuss the potential of your startup with a friend or people in your network, you will realize that they may have a word or two to say about the startup. Eventually, they might even refer you to people who might help you grow the startup. Ultimately, this network will help with word of mouth, which will garner maximum growth potential
#2 Competition Analysis
Many people realize the importance of competition analysis. However, very few actually work on the prospects of understanding how competition is marketing their product and actually identifying the gaps or gaining insights into the market.
The importance is marred by how it is performed, and the fact that not many people actually understand how to conduct a thorough competition analysis.
You need to work on a competition analysis that offers in-depth understanding into the market they are operating, the methods they are using to operate, and the difference they have created with the single product offering. 
With this, you will be able to build insights that can ably help you define a market strategy for your product/service and help you creating the ideal market growth strategy. 
#3 Email Marketing
The most economical yet effective strategy for B2B growth would be email marketing. You should ideally gain access to valid email addresses that can help you send the right content to the right people. The messages could be anything ranging from asking them to sign up for a product demo to being the first to download your new mobile app. You should ideally work on this strategy in a way that you have defined the emails from the start to the nurturing stage for your startup. B2B being a segment where you will find that the uptake is slow and the decision making prolonged, it will be nice if you can use emails to convert the customers.
#4 Build your Online Presence
It is important as this juncture for you to define a solid online presence. Work on social media presence as well as web and mobile presence. You should define the online visibility strategy that you believe will be best suited to your business.
Along with defining the strategy, you should also work on content that you believe will deliver maximum to your users.
Summing Up
This is just the tip of the iceberg that I have discussed with you related to growth hacks for a B2B startup. This is just what you need to begin with. I am running a startup growth program, where I will personally understand how your B2B startup has been defined, know the soul of the startup, and eventually build on the growth strategy for you.
So, if you have not heard about this program, check out my page that details out the program along with the itinerary. If you want to sign up, we have already set the form in place. You can even email me to discuss the potential of the program, and eventually sign up for it.